Welcome to the Kellogg Lab's collections site. We invite you to follow our progress during the first phase of the Pan-And project, where we collect wild grasses in the Andropogoneae tribe across their geographical range in North America and Australia. In collaboration with several other labs and field organizations, this project will use nearly a thousand species, collectively representing over a billion years of evolutionary history, to understand the rules of convergence and constraint in grass genomes with an aim to model fitness under drought and temperature stress.
This project would not be possible without funding from The National Science Foundation (IOS #1822330), and our collaborators and co-PIs:
Edward Buckler (USDA-ARS, PI); Santosh Deshpande (ICRISAT, Collaborator); Sarah Hearne (CIMMYT, co-PI); Matthew Hufford (ISU, co-PI); Elizabeth Kellogg (Danforth, co-PI); Sara Miller (Cornell, Business Manager); Cinta Romay (Cornell, Project Manager); Robert Ross (PRI, Outreach); Jeffrey Ross-Ibarra (UC-Davis, co-PI); Adam Siepel (CSHL, co-PI); Qi Sun (Cornell, co-PI).
Field collections are conducted by Elizabeth Kellogg (Donald Danforth Plant Science Center), Chrissy McAllister (Principia College), and Taylor AuBuchon (Donald Danforth Plant Science Center)
Website created by Taylor AuBuchon
Special thanks to Sally Fabbri and The Donald Danforth Plant Science Center greenhouse team
With an increasing global population and changes in climate, plant and biodiversity research has become more vital than ever; and even more so - research in crop productivity. One way to investigate this subject is by looking into wild species related to today's crops like maize and sorghum.
The grass family, Andropogoneae, consists of over 1,200 species including maize and sorghum dispersed across the globe spanning 15 million square kilometers. With their C4 photosynthesis, they are some of the most productive plants in the world for grain, biofuels, and sugar. Some thrive in extreme heat and drought while others, even of the same species, have adapted to thrive in extreme cold and wet conditions. With their wide geographical range and diverse ecotypes, the Andropogoneae family still harbors a diverse set of alleles to allow this adaptability, despite their being similar in phenotype and development.
By sampling this clade across as many different environments as possible, we can identify adaptations in abiotic stress tolerance, and find answers that may help enable crops in the future to better adapt to warming climates.
Studying the Andropogoneae clade instead of focusing on a single species allows for the observation of variation between species (we've collected Andropogon gerardii, "Big Bluestem," in Austin, Texas as well as Manitoba, Canada.) The nucleotide diversity in natural populations includes variants that have been tested over evolutionary time and have been selected to thrive despite millennia of deleterious mutations.
The challenge: identify variants across their genomes inexpensively and at scale, while also providing insights into their mode of action. By surveying Andropogoneae diversity generated over billions of years of evolution, we can understand how selection favors certain functional variants across different levels of molecular biology (RNA, DNA, proteins, etc).
In order to obtain the large level of species sampling needed across their range, several panels were created to better organize the overall objective: Population Panel, Environmental Panel, and Tribe Panel.
Population Panel: Field collections. Here, we'll sample ten different species across their native geographical range spanning different temperature and precipitation gradients, 7 in North America, (Andropogon gerardii, Schizachyrium scoparium, Andropogon virginicus, Bothriochloa laguroides, Sorghastrum nutans, Tripsacum dactyloides, Elionurus tripsacoides), 3 in Australia, (Themeda triandra, Cymbopogon refractus, and Heteropogon contortus). For each species, we'll collect ten different populations consisting of at least ten distinct individuals, bringing the total number of grasses collected in the field to 1,000.

Environmental Panel: This panel adds 50 more species for diversity representing as many growth environments and forms as possible from which we can access viable clones for genome assemblies. Some will come from our greenhouse, some will be collected in the field.

Tribe Panel: In order to maximize total evolutionary time and replication of environmental adaptations, we'll sample as many species as possible from the Andropogoneae family with the goal of about 900 species. Our lab, The Kellogg Lab, already has DNA from several hundred species, we'll start there.
In 2018 we were able to collect field specimens across a large range in North America. After determining species range based on herbaria records and temperature/precipitation maps, we aimed to collect as many individuals as possible for the population panel. We needed to find protected areas with known histories to ensure species' native status.
This was made possible by the help of local field experts from various organizations:
Texas
Katy Prairie Conservatory, Ryan Middleton, Wesley Newman
Lady Bird Johnson Wildflower Center, Michelle Bertelsen
City of Austin Water Quality Protection Lands (WQPL), Matt McCaw, Kevin Thuesen
Nature Conservancy Barton Creek Habitat Preserve, Brandon Crawford, Charlotte Reemts
Native Prairie Association of Texas, Kirsti Harms
Colorado
City of Boulder, Open Space and Mountain Parks, Lynn Riedel, Brian Anacker
Maine
Nature Conservancy, Maine Field Office, Nancy Sferra, Jonathan Bailey (Kennebunk Plains Preserve)
New Mexico
Nature Conservancy, Robert Findling
Milnesand Prairie Preserve (Creamer Ranch), Kyle Dillard
Alabama/Florida
The Nature Conservancy, Alabama Chapter, Chuck Byrd
District 1, Panama City, FL, Division of Recreation and Parks, Florida Dept. of Environmental Protection, Arthur Stiles
Blackwater River/Yellow River Marsh Preserve State Parks, Marshall Shaw
University of Alabama, Michael McKain
Canada
Nature Conservancy, Manitoba, Julie Pelc
Manitoba Tallgrass Prairie Preserve, Tim Teetaert
After collecting individuals in the field, we transported them to the Donald Danforth Plant Science Center where our greenhouses are located. Each population was vouchered in the field to be submitted to the Missouri Botanical Garden; and each individual transplanted into its own pot and placed under chamber quarantine under the care of Taylor AuBuchon and greenhouse staff.
Once the plants are healthy enough to provide tissue, we collect small young leaf samples from each individual and send them to our Cornell collaborators for DNA extraction and sequencing. While they grow in the greenhouse, we also estimate each plant's genome size using flow cytometry, so we can determine a good reference individual for each species in the panel.
As of December 2018, we have collected and submitted approximately 400 individual field samples to Cornell for extraction and sequencing!
2019 collections brought us to Australia.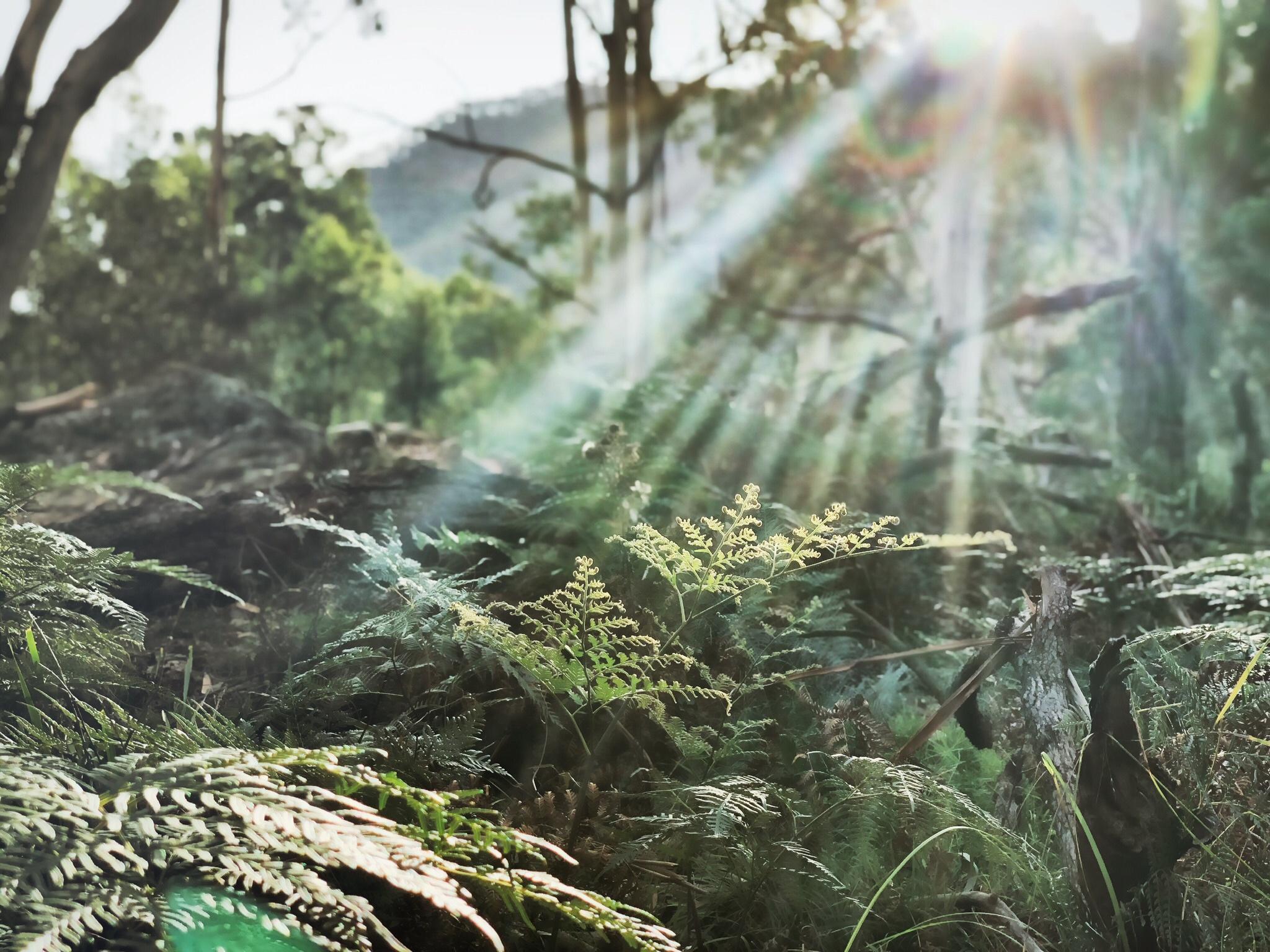 Three of the population panel species remained to be collected after a successful field season in 2018, so in March we sent Taylor on a two-month mission to sample 300-plus plants in the wild all across the country, or as far as she could go.
This took months of planning, permit applications, international Skype meetings, and help from collaborators in Australia. Dr. Sarah Mathews with the Australian National Herbarium helped make this possible.
As with North America, Australia's average precipitation and temperature were considered along with the population distribution of our target species: Themeda triandra, Cymbopogon refractus, and Heteropogon contortus. We were able to sample populations in Victoria, New South Wales, Queensland, and the Northern Territory bringing home more than 300 tissue samples.
Photos taken by Taylor AuBuchon
This successful collecting trip would not have been possible without:
Dr. Sarah Mathews
Australia National Herbarium, Canberra, ACT
The Australian National Government
National Herbarium of New South Wales, Sydney
New South Wales National Parks and Wildlife Service
Queensland Parks and Wildlife Service
Queensland Department of Environment Service
Queensland Herbarium
Northern Territory Government
Northern Territory Herbarium
Northern Territory Department of Natural Resources
Victoria Department of Environment, Land, Water, and Planning
Dr. Richard Jobson for his generous Themeda collections
stay tuned as we finish the 2019 field season in the us
For field collections in US & Australia: Taylor AuBuchon, taubuchon@danforthcenter.org
Follow us on Twitter @TheKelloggLab